It's my giveaway day, today! I am glad to include an offer not for just one, but
two free blog makeovers.
Lucky participants will receive a blog makeover by the generous and talented
Tara
. She is just getting her business off the ground, so go ahead and join in.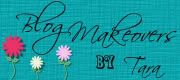 Don't forget to spread the word about her business, too. With prices starting at $25 including the design kit, her offer is fantastic. Even if you don't win, you can still get a makeover for $13 if you order by February 1st! Love month is ahead, go on, show some love through your blog! Good Luck!