Le Comptoir des Cotonniers is one of those companies that make fashion that normal people may wear, but manage to do so with flair and style that sets them one step forward from the rest of the pret-a-porter people.
I love Le Comptoir's trademark effortless chic style and neutral colour palette.
Another reason I always pay attention to Le Comptoir's styles is its advertising campaigns. Soon after it was founded in 1995, the campaign was set on the theme of Mothers and Daughters, having everyday mother and daughter teams showcasing the company's styles.
2005
2010
Minnie dressed by Le Comptoir de Cotonniers, to celebrate Mickey's 80th birthday!
Summer 2011
As a principal I do not think that mothers and daughters can actually wear the exact same clothes.
We often get mother and daughter duos coming in the shop, and when they dress similarly, mothers almost always look like they made too much of an effort to look young.
Then of course it all depends on the person's sense of style.
I do find it fun sometimes to shop with my daughters from the same shop, especially for accessories.
All pictures, Le Comptoir des Cotonniers, apart from those signed by me.
also has an interesting blog,
Breves de Style
.
I am linking my post to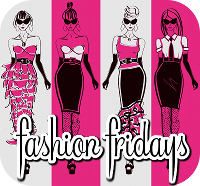 I hope you enjoyed your stay here.
See you soon!