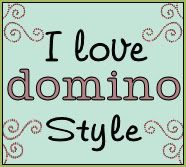 Hello style lovers,
Today in
Love Domino Style
, we're going to take a look at some more pictures from past issues of
Domino
Greece.
This is the November 2007 issue, featuring popular singer
Despoina Olympiou
on its cover. In every issue the guest discussed their favorite objects and style of decoration.
Domino
has in fact been a magazine of
fashion in decoration.
Like the
In Style
supplement, it has linked decoration with fashion styling, as the photo below illustrates.
The only person Greek people had heard of from this issue is Oscar de la Renta. The magazine presented his garden and its layout in an article called "High Gardening".
Illustrated below is another aspect of
Domino
, profiling business people, making them known to the general public who might need their services but didn't know they existed.
(In this issue,
Stirixis
, Retail Identity Architecture Construction).
The reason why I picked this issue, though, is because several of is articles summarize what
Domino
stood for. Stylish and sophisticated, yes, oftentimes eccentric (I loved that), but in a more democratic way, not just for those with money, the wannabes or those in the trade, but also those who were in the know and wanted to find ways of applying what they saw as stylish to their own spaces.
This issue features a special on those very tricks. They include wallpapering, cornicing, adding color to small spaces, and clever concealing.
Also present, two of Domino's trademarks, the zebra rug (that I never liked)
and the art of stylish living in small spaces.
Next week,on
Love Domino Style
, I shall post about one of my favorite Greek fashion designers and his fabulous, eclectic home. Stay tuned.