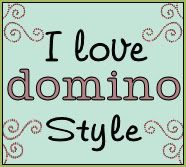 Hello,
I hope everyone had a lovely week.
Have you seen any interesting posts about Domino lately?
I have found three Flickr pools to indulge myself in the beauty od fresh, spring fragranced interiors.

Today i'd like to ask you whether you got to leaf through the closing, March 2009 issue of Domino. If you did, why don't you post some pictures on your blog or photostream? Let me know if you do! I'd love to see what they made of the last issue. Apparently they had a feature telling the stories behind the homes of people during different decades of their life. A very American Vogue concept.


Photo credits: With thanks to: curlyjazz, onbradstreet, kimhas6cats, and annieloveschris.
Also read this article from Apartment Therapy.
Have a bright week ahead!