Isn't she beautiful?
Usually I am not a big fan of Charlotte's or the Monegasque family. I really like Her Serene Highness Princess Caroline. I have admired her for decades for her poise and style, and for the way she handled most of life's turns over the years. Charlotte always looked a little too high browed for my royal tastebuds. I also think her taste in boyfriends is rather below her.
And yet,
I like the way she grows into a beautiful young lady.
I love her ad for Gucci, just out this week. She is photographed by master photographer Peter Lindbergh.
I love the colours, the composition, the products that were chosen.
Gucci
and I have a rather long story together.
Long before Tom Ford took over, Gucci was very much what you see in this ad. A printed toile with red and green stripes. Quite obvious, but very stylish.
My fondest memory of Gucci will always be the gift I received from my mother upon graduating from
L'Institut Français d' Athènes
:
My first heels.
Two pairs of Gucci shoes, one in blue one in mocca brown, with the house logo, green-red-green tape and classic guilding.
This pair is not actually one of my own, but it actually gives you an idea of the style and cut of the late 1980s.
I have so much enjoyed wearing those shoes, eventhough I had no idea at the time of the vintage cult that would follow, and haven't saved them for posterity.


Back to Charlotte, at 26, I love to see her grow into a sophisticated young lady. She certainly has all the background to do so, and I really hope she will. Here are a few of my favorite recent photos of her.
This one in Paris in January.
For Vanity Fair
In Gucci at an equstrian competition
Here is a video of the beautiful mother and daughter duo.
And here is a video of the Gucci shoot via Hello magazine.
Love behind the scenes!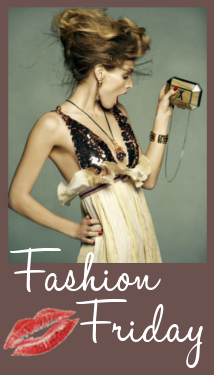 I hope I entertained you all for this Fashion Friday post.
Whatever you do, do it with style.