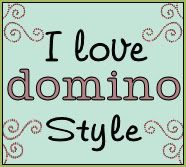 Hello, and welcome to Love Domino Style Tuesday.
I believe Ines de la Fressange to be the epitome of timeless yet contemporary style of our times. She is my favorite person in the fashion world, as you know, since I have posted about her before.
In my Love Domino Style post
last Tuesday
, I was asking if anyone could publish pictures of Domino's last issue. It apparently featured Ines' home in hot pink colours.
As
Sparrows and Sparkles
reports, the post includes
four of her amazing living spaces (and her insider tips on Paris!).
Well, I managed to get the info on Mme de la Fressange's apartment featured
here
on Elle Decoration. It is so different from her previous residence,
seen here
, another proof that she has the power, intelligence and stamina to renew and adapt herself to the times and the circumstances. She has style, class and this
je ne sais quoi
of life's taste makers.
Picture above from Elle Decoration UK via Apartment Therapy,
here
.