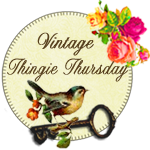 Hello dear friends,
I have decided to join the Vintage Thingie Thursday at
Colorado Lady
. I have a growing appreciation for older objects in the past couple of years, so I thought I'd share my love for them with you. For the first post, I have picked an item that is not very old, but is of one of my favorite childhood characters. I have grown up with Holly Hobbie and Sarah Kay and those romantic images. I want to bring some of that to my life, from a time more romantic and innocent that my daughters have not experiences as much as I did. So here is one of my Holly Hobbie
objets
.
This vintage tea towell from 1977, a very nice year in my life, reads "Simple pleasures, life's treasures" which is my belief, too. Purchased from
Retrolabs
at Etsy.
Thank you for stopping by. I hope to join many, many more Vintage Thingie Thursdays and visit with all of you.